Tribute to Catalan folklore and Barcelona's traditions
Project name
FOC Restaurant
Client
FOC by Nandu Jubany
Functions
Interior Design, Ideation, FF&E and Craft
Collaborations
Photography ©
Caleb Ming, Nicholas Goh,
Shade Photography
Applied graphics ©
Marnich Associates
Sculpture ©
Jordi Yaya, Taller Sarandaca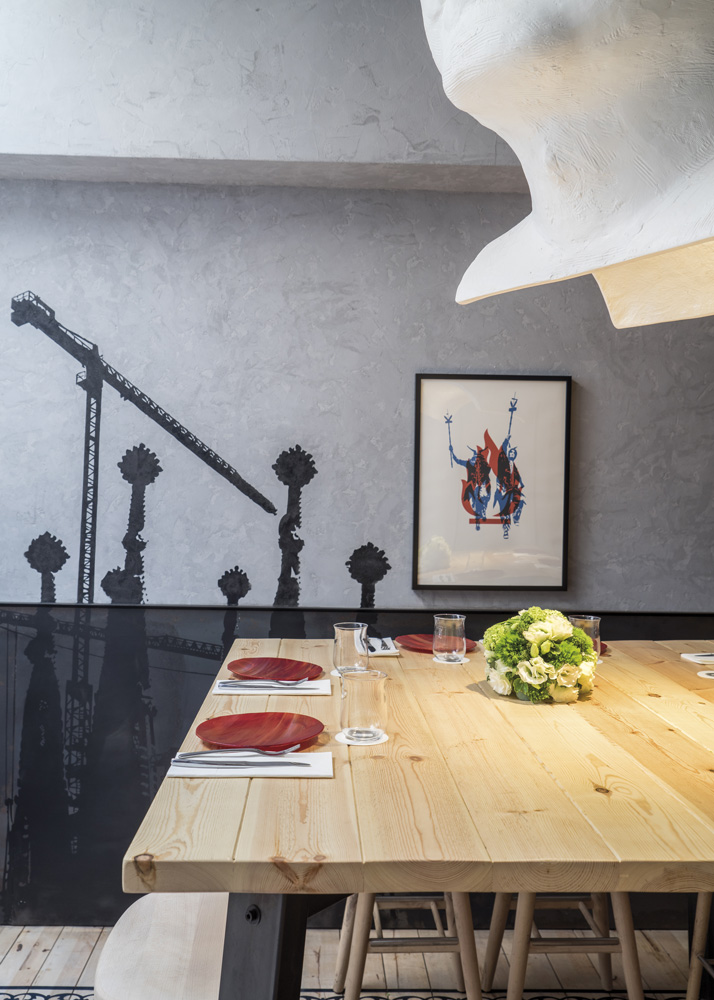 The studio pays tribute to Catalan folklore and Barcelona's traditions at FOC without giving way to turn the restaurant into a theme park.
Capgrossos (typical burlesque giant papier-mâché masks which are carried in annual local festivals) or porrones (wine jugs) used as lamps are an example of changing the way typical Catalan culture elements are used to give those who come in at Nandu Jubany's new restaurant in Singapore a wink.
The space is simple: a darker front room with a large bar and an open kitchen followed by a glass ceiling patio for the objects in there to become more prominent —a search for balance in Barcelona's popular culture reinterpretation.
Rafael Marquina's iconic cruet and the emblematic pepper mills; a series of graffiti such as the Burro's (the donkey is a Catalan symbol), La Sagrada Familia's, Messi's, and Spanish typical tile are all playing an important role in the design.
All in all, we just want to contextualize the taste of Nandu Jubany's dishes far away from home trying to shorten the distance between Singapore and Barcelona.