Project name
Xcelirate Offices
Functions
Ideation, Concept, Interior Design & Decoration
Collaborations
Illustrator. Javi Royo
Video, Kinki Factory
Popular culture, a dash of irony and a mega-dose of fun underpin new offices for Xcelirate in Barcelona.
Xcelirate is an expanding digital entertainment content provider with a global reach. Many of its staff work from home in far-flung locations. In a step to take the company forward and attract talented young programmers, the company decided to open a hub in Barcelona – a city renowned for its digital start-up culture and fantastic lifestyle.
Xcelirate rented a top-floor office with a terrace on Passeig de Gràcia – Barcelona's most prestigious avenue. Although the space was already fitted out as a functioning office, Xcelirate's directors wanted something that expressed its values. They wanted to inspire their young team and provide a unique, fun environment that would bring out their professional best. Their vision for a workspace that was dynamic, fluid and just a little irreverent. The décor had to encourage people to connect, innovate and imagine, and let them be creative whether they were sitting at a desk or on the terrace. The order of priorities as AGames; B- Fun; and then C-Work.
Although Xcelirate operates in the digital realm, physical meetings – between both staff and clients – are important. For these occasions, the designers created thematic meeting rooms that pay homage to recent online phenomenons. In one, you step into the world of Narcos – with jungle wall motif, historic photos of Pablo Escobar and his entourage and a central table featuring the show's name in powdery white font. Another takes you to a bank vault – the main stage for the hit Spanish series La Casa de Papel ('Money Heist') where the Anonymous facemask worn by characters in the series and private strongboxes are the visual codes.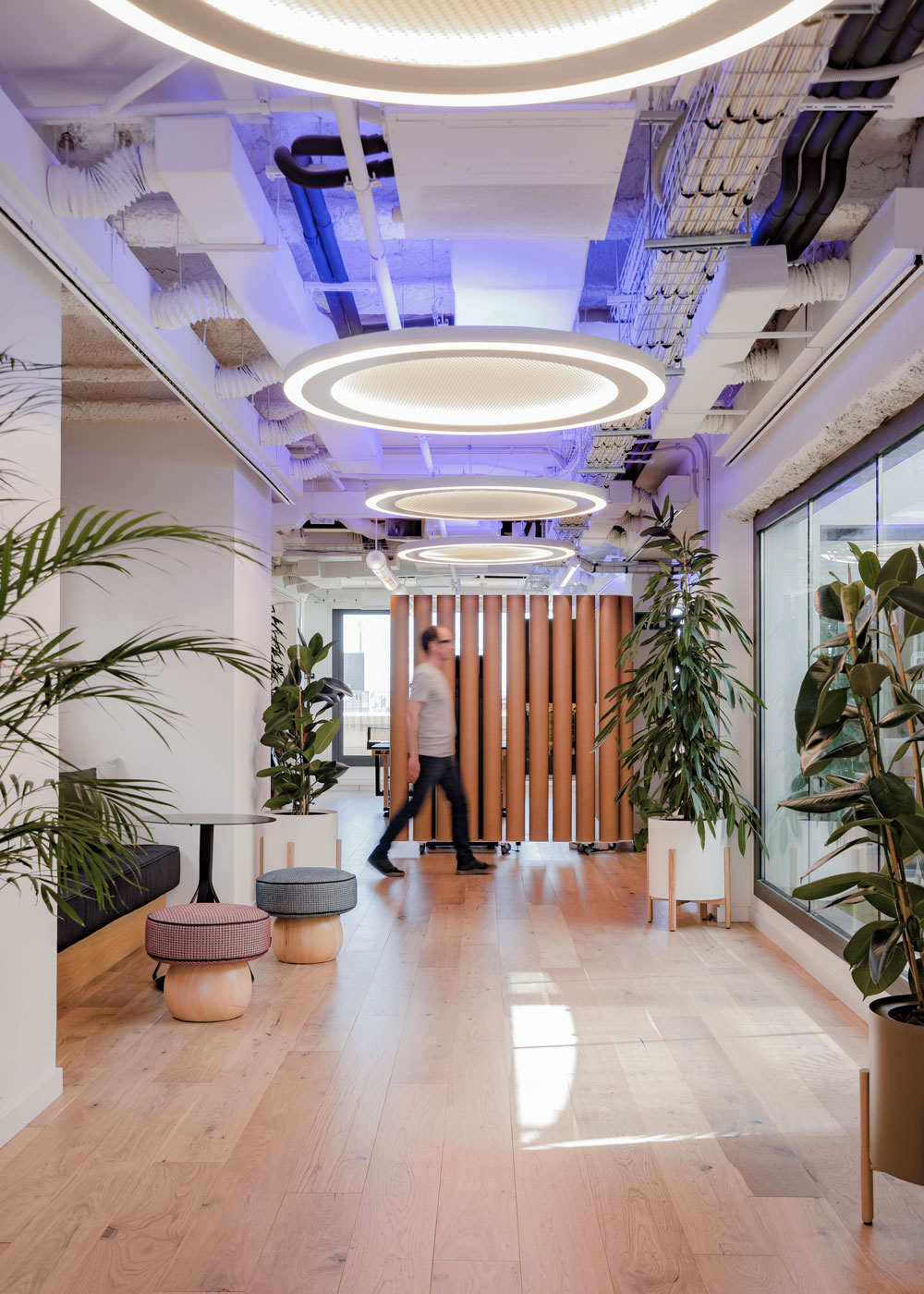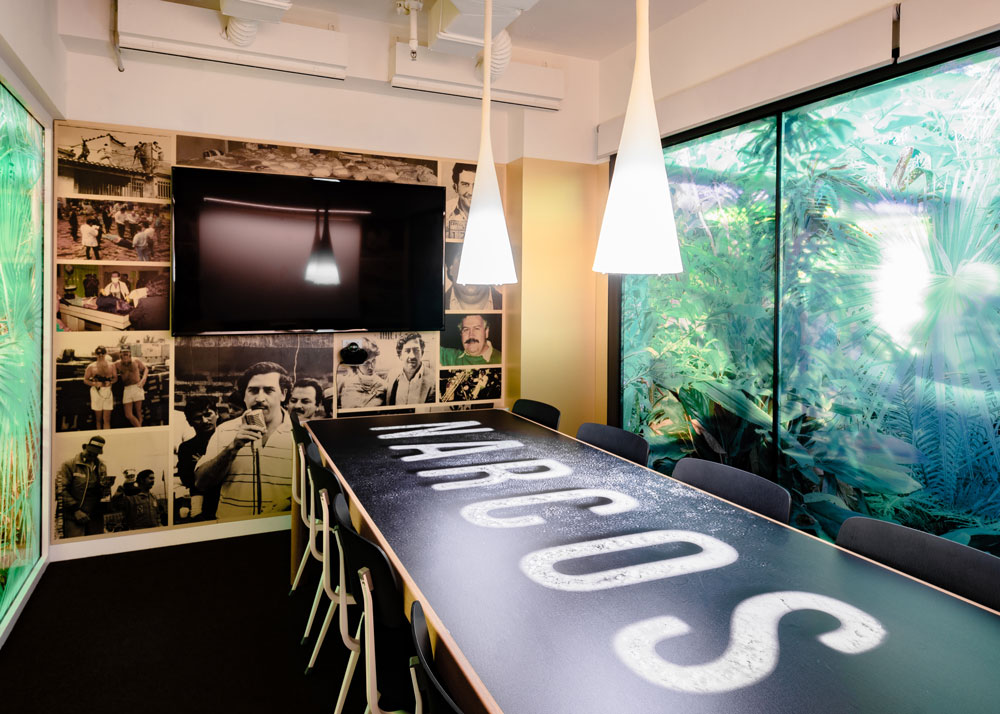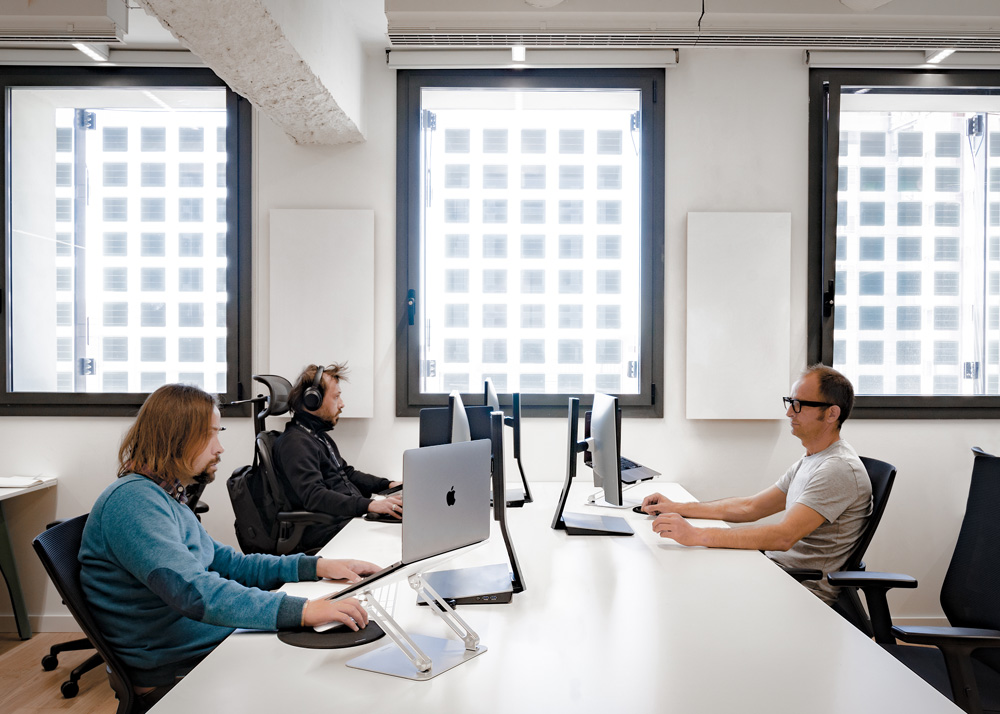 The shared workspaces of the new Xcelirate HQ present a similar sense of diversion, but with a stronger emphasis on productivity. Lounge areas and informal work nooks have been fitted out and Lagranja-designed chairs, stools and sofas in softly rounded forms and warm textiles. Taking inspiration from video games arcades, the 'Recreation Room' features neon wall installations of Pacman, Space Invaders and other famous characters of the genre. They share company with illustrations by Barcelona-based illustrator Javier Royo on the curtain window to the terrace, his little creatures creating quirky interactions with the city's famous skyline. Beyond the design concept, Xcelirate is leveraging its new HQ in the communication and development of its brand. As soon as it was completed, they commissioned this vibrant recruitment video that pitches it as a colourful, thematic playground for the best tech talent.