A magnetic workspace for healthtech employees
Project name
Doctoralia Offices
Client
Doctoralia Internet S.L.
Functions
Interior Design, ideation and FF&E
Collaborations
Mural artists, Zosen Bandido y Mina Hamada.
As a different normality opens up, many companies face a new challenge – how to entice employees away from the comforts of their home and back into the office?
This question was the foundation of the design of new offices in Barcelona for Doctoralia, a successful healthtech company. Natural light, bright open spaces with a playful quality, and the breaking down of workplace hierarchies governed the strategic answer proposed by Lagranja Design studio.
Situated across an entire upper floor of a skyscraper in Diagonal Mar – Barcelona's high tech office hub – the 900 square-meter space has enviable 360-degrees city and sea views. In all their projects, Lagranja Design's philosophy is that all employees should enjoy the same level of comfort, no matter their position in the company. In the case of Doctoralia, three departments – customer service, marketing and computing – needed to be accommodated alongside enclosed offices for management. In other words a corporate ecosystem where communication and crossovers should be quick, seamless and dynamic. An open bar is the focal point of the scheme – in both placement and function. Situated in the exact centre of the office, a 10 m-long white Dekton ( ultracompact high-performance surface by Cosentino) unit provides a place to eat, drink and discuss. Lagranja Design invited Zosen & Mina, a pair of artists whose work has segued from the street to top galleries, to create a mural for the kitchen area's back wall – a candy-coloured, Matisse-inspired composition that bellies the youthful vitality seen in the rest of the décor.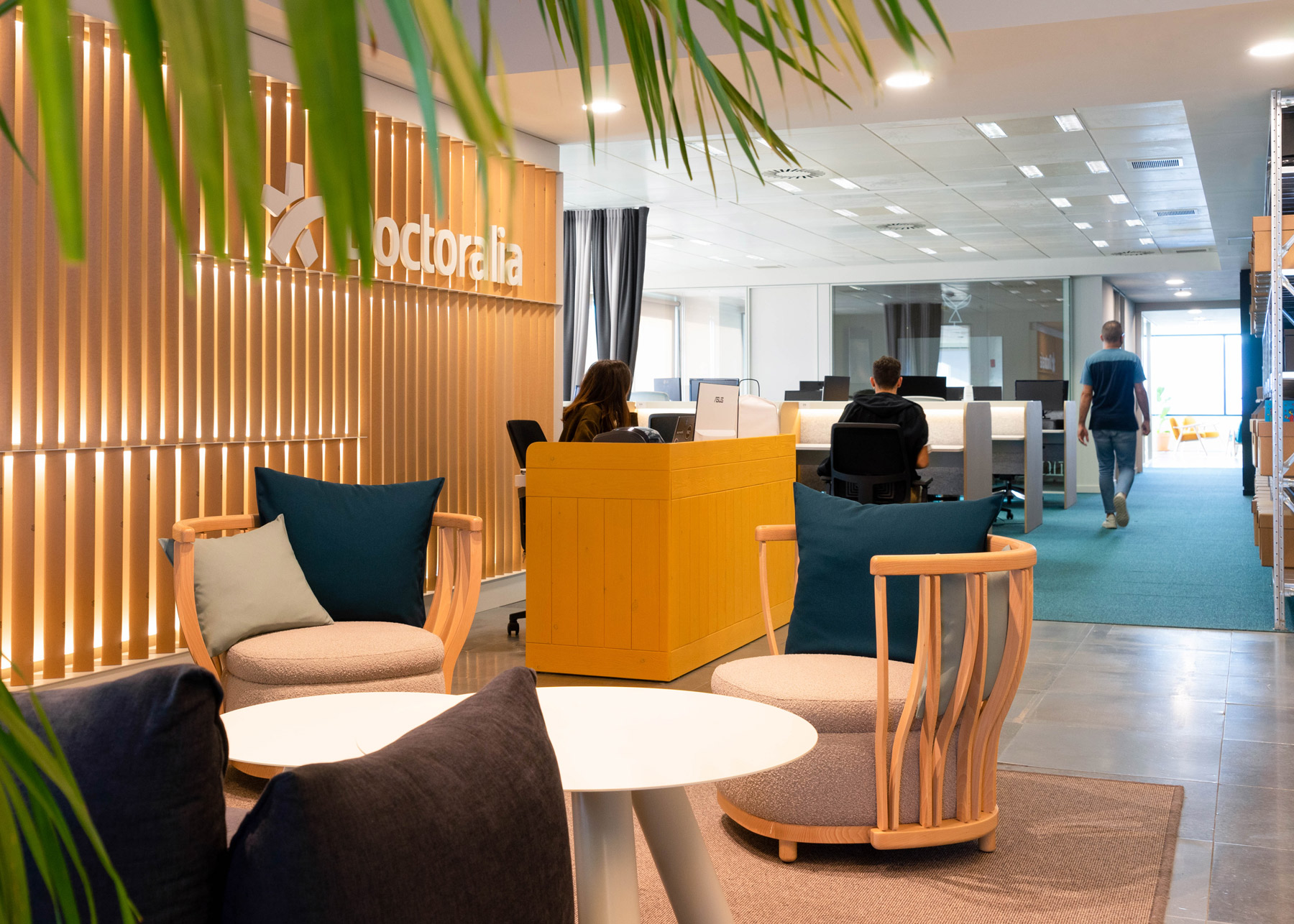 "It was clear that from the get-go that we needed to create a fresh, youthful concept," says Gabriele Schiavon, co-founder of Lagranja Design. "We rejected designing fine furniture pieces for a look that was a little 'raw', with a warehouse feel, and using low-cost recyclable and industrial materials." Adjacent to the bar-kitchenette, this feeling has been expressed with tables repurposed from industrial bobbins and kraft cardboard cylinders that act as stools. Arranged in clusters around the sea-facing window, they provide an informal and inviting social area that is in constant view of all departments and easily accessed.
Spanning around this are the work areas of the different departments, all open-plan with the exception of some glass-enclosed meeting rooms tucked into the corners. Noise is kept to a minimum with specially designed acoustic absorbers made of recycled PET felt and fitted into the roof rafters.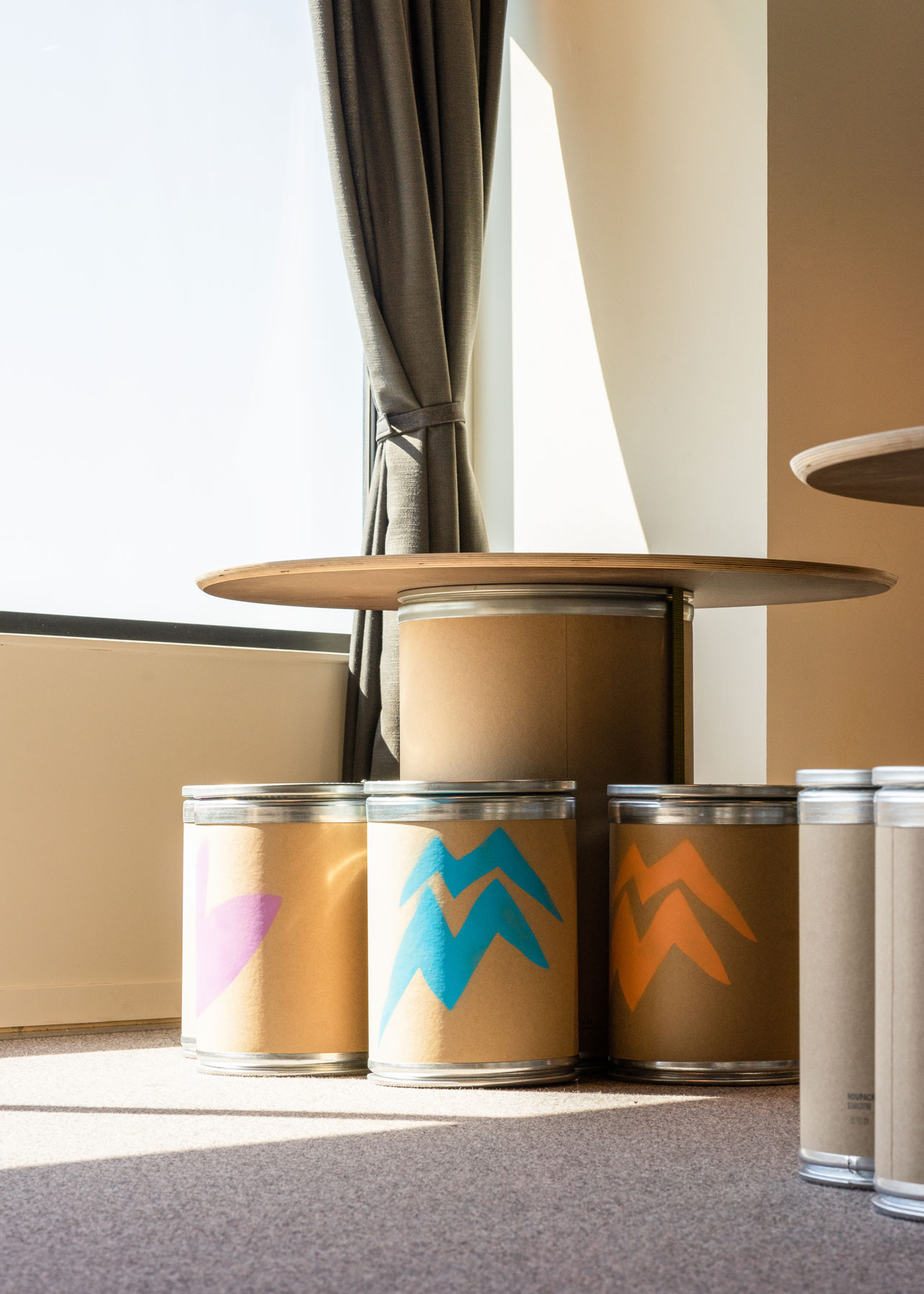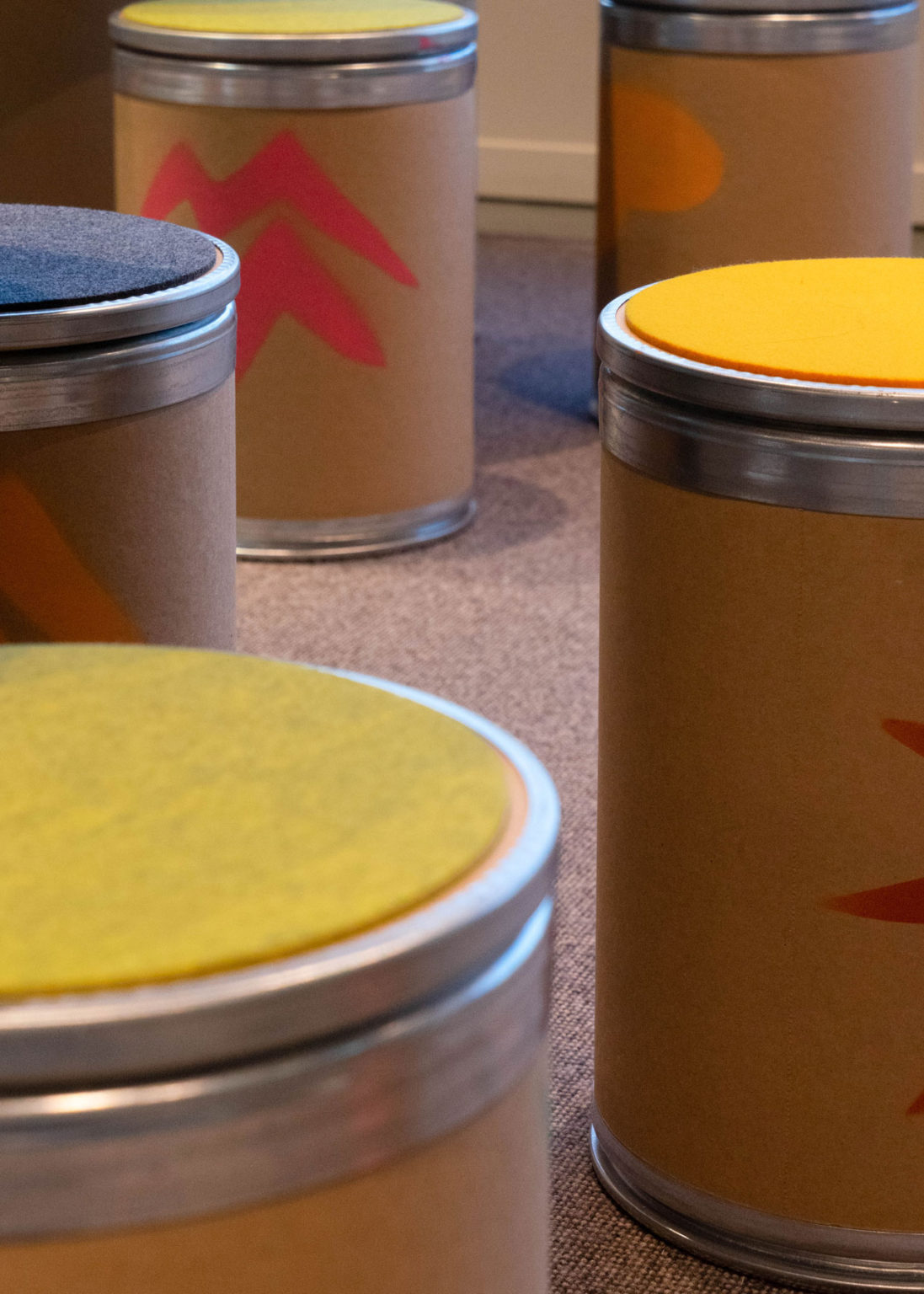 The attractive, lo-fi approach of the scheme extends to the reception area – a simple, sun yellow reception desk in front of a room divider made of plisé kraft cardboard featuring the Doctoralia logo. By harnessing existing views, natural light, a democratic layout and an honest, measured approach to design and décor, Lagranja Design has created an inspiring environment for Doctoralia employees as they make the transition back to the workplace.