A celebration of Italian culture and its people.
Project name
Italian Consulate
Location
Barcelona , Spain
Functions
Concept, Ideation, Interior Design & Craft
Collaborations
Graphics, IED Instituto Europeo de Diseño
Lagranja design directs the overhaul of an important institution with the colours, and cultural and stylistic references of Italy.
With 30,000 registered residents, Italians make up the largest foreign community in multicultural Barcelona. It is safe to say that at some point most of them need to make a visit to the city's Italian Consulate, whether to renew their passport, or attend one of the talks or events on its cultural calendar. Whatever the reason, the experience is now elevated thanks to a makeover directed by Lagranja Design.
The Italian Consulate is situated on an upper floor of an office building in Barcelona's business district. Creating a welcoming, domesticized space 'Made in Italy' was the starting point of the program. The greatest challenge was to design a coherent scheme that accommodated both public and private areas, along with the layers of high-security systems that feature in institutions of this nature. "We were challenged with creating a complete program of offices, reception areas, booths for customer service, meeting rooms and a kitchen that had to be warm and attractive and at the same time adhere to strict security protocols," says Gabriele Schiavon, cofounder of Lagranja design and himself a native Italian. " The only way to do this was to make the security areas completely invisible."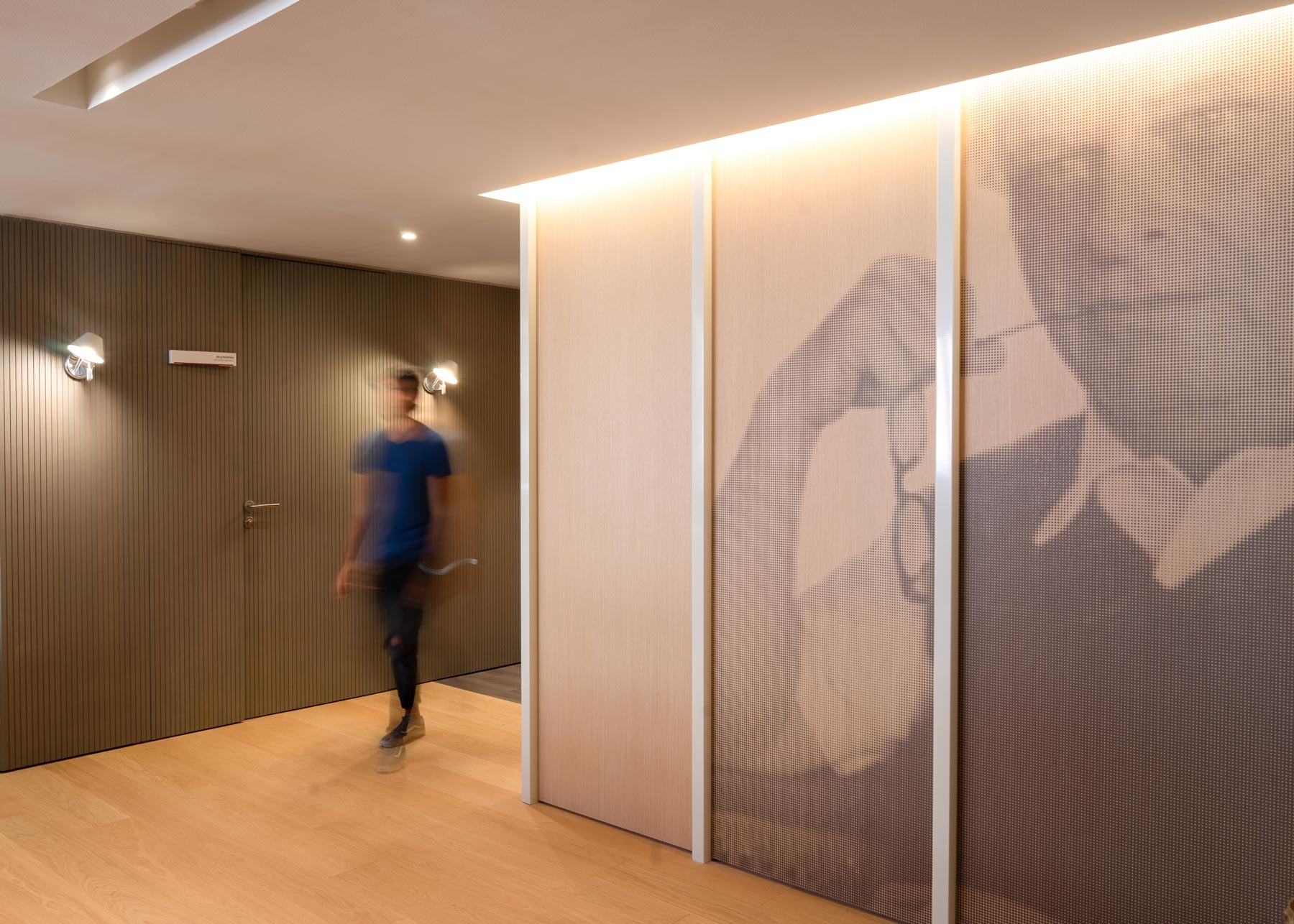 The device used to achieve this is a series of one-way, security glass screens that section off secure areas and also feel like an integral part of the interior design. The screens create a gallery of pixelated portraits of illustrious Italians from all walks of life and epochs, from Dante to Sofia Loren. In addition, the red, white and green of the Italian flag is the tonal leitmotif of the space, seen in the screens, the tiled bathrooms, and also sophisticated signage created by students of the Instituto Europeo de Diseño in Barcelona. Warm wood flooring and partitions add to the domestic feel of the consulate, creating a rare, relaxing ambience in an institutional space.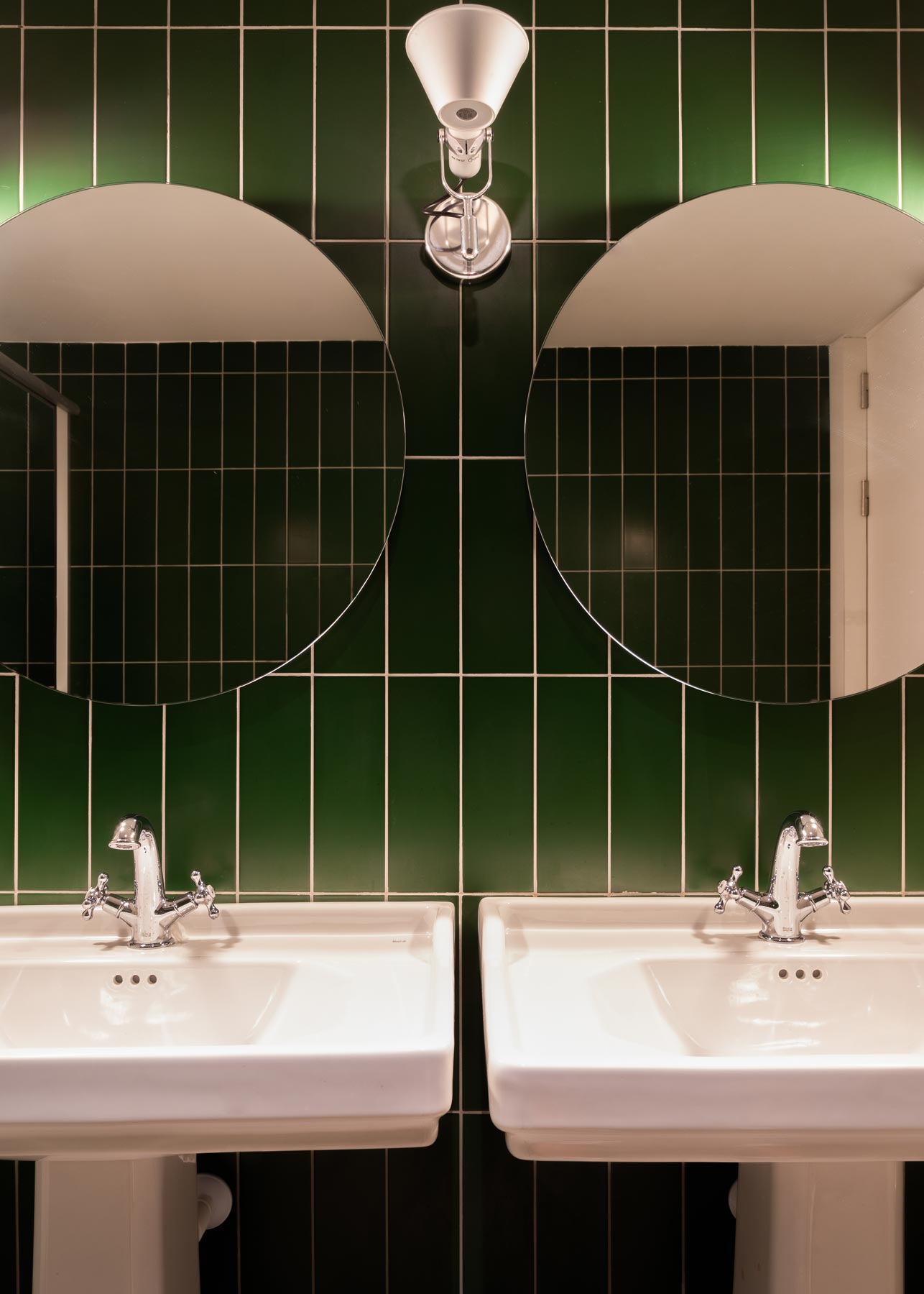 The furniture and lighting for the offices and meeting rooms were curated by Lagranja design, and read like an appreciative recognition of Italian design maestros and manufacturers. Munari's iconic Falkland pendant lamps transform the office of the Consulate General and reception rooms, and Michele de Lucchi's Tolomeo wall lamps, from Artemide, illuminate the vividly colorful bathrooms. Marco Zanuso contributed one of his Lady sofas; Franco Albini a statement 'tre pezzi' armchair and bookshelf and Benedetta Tagliabue, herself a Barcelona resident, her spectacular Dome lamp. Odoardo Fioravanti's Poltrona Dome chairs were chosen to seat participants for talks and show-cooking events, which the consulate will host in a sleek black kitchen conceived by Casa Lube (Cucine Lube).It was Italian people over design however that provided the guiding light of the project. "Although this was obviously a prestigious commission for any design studio", says Schiavon, "Our main focus was not so much creating a showroom for Italian design but a comfort zone for Italian people. For this reason, we put so much thought into the service areas, which is really the only part of the embassy most Italians will ever have the chance to visit."