The rehabilitation of a 29-storey building
Project name
Madera Service Apartments
Client
Hip Shing Hong Group
Location
Kowloon, Hong Kong
Functions
Interior Design Concept FF&E and Craft
This new area would eventually be connected through a large lobby with the Madera Hotel, previously designed by the studio. The new proposal matches the spirit of the first hotel project by offering apartments with fresh, uninhibited and cosmopolitan aesthetic. The apartments are managed as a hotel and range from 20 to 30 m2, sharing the concepts of amplitude and functionality.
The greatest peculiarity lays on the single color allocated for each suite that is combined with a stripped black and white pattern.
Dark red, warm green, yellow and orange are the chosen colors to visually enlarge the rooms. The space is arranged in order to highlight the living area made of a double bed, nightstands and Lagranja Collection furniture.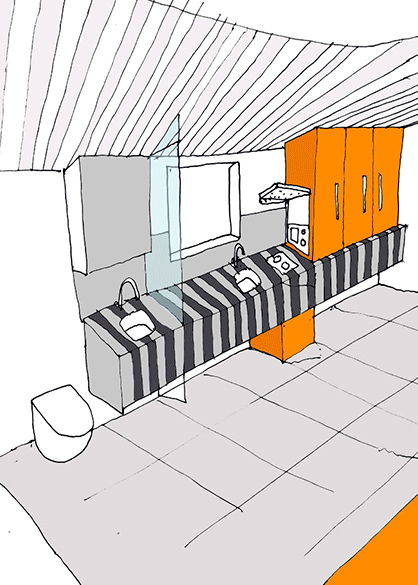 While the last three floors contain brand new lobbies and three luxury suites per floor, the rest of the building is divided in four smaller apartments. Although the shape and wideness of each one varies which influences the inner distribution, all the apartments share a similar aesthetic approach.
The aim was to keep the utilities compact to allow as much room for living as possible, without deviating from the design and functionality.
To keep the space unimpeded, the toilet has been confined within a crystal box with the possibility of closing the curtains when being used. The cooking area and the washbasin are incorporated in a large stripped black and white Corian counter. This furniture unit matches the monochrome character of each room while hiding the drawers and cooking utensils.