A simple and intelligent approach to new Mediterranean living
Project name
A Vertical House in Gràcia
Functions
Interior Design, Concept, FF&E and Craft
Collaborations
Video © Marc Castañé
This private home represents a simple and intelligent approach to new Mediterranean living.
It's situated in Gràcia; a neighbourhood that has conserved noticeable traditional charm, with narrow streets and squares, 19th century apartment buildings, and old industrial workshops.
Discreet yet defined, intimate yet open, the House in Grácia was conceived as a loft space constructed from metal supports, almost like a freestanding shelving unit.
With a façade width of only four meters, verticality drives the design, a scheme that seeks to maximize natural light at every angle, considers every constructive detail carefully and renders the home with an acute precision. A central staircase conducts the home over three floors; open, fluid and adaptive spaces that can be closed with large painter canvases converted to sliding doors.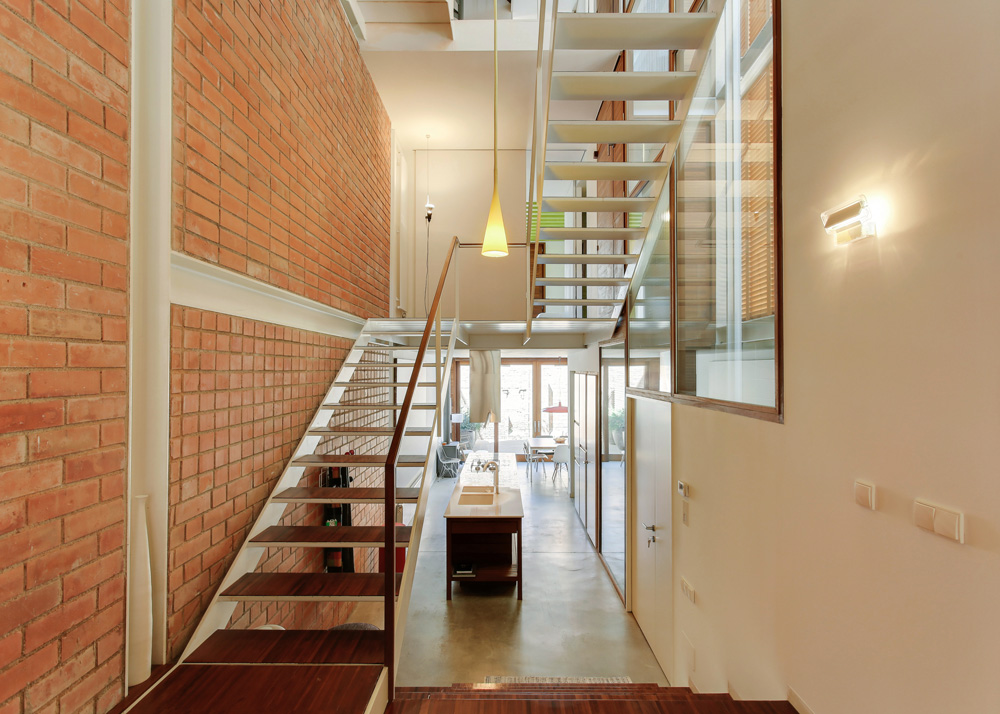 Inside, the metallic supports and central staircase, painted in austere colours, are encased with warm exposed brick walls of differing compositions, which were inspired by Alvar Aalto's summer home on the island of Muuratsalo in Finland. The use of wood in the floors, floating steps and other carpentry adds a more natural Mediterranean language, particularly on the facade where wooden slats tame the harsh exterior light, regulate the interior temperature and shelter the home from its traditional, densely urban environs.